Graphic design students have a lot on their plate. Between learning complex software, developing a personal style, and building a stand-out portfolio, it can be overwhelming to know where to focus your efforts. To help students succeed, I reached out to top designers and entrepreneurs to get their best advice.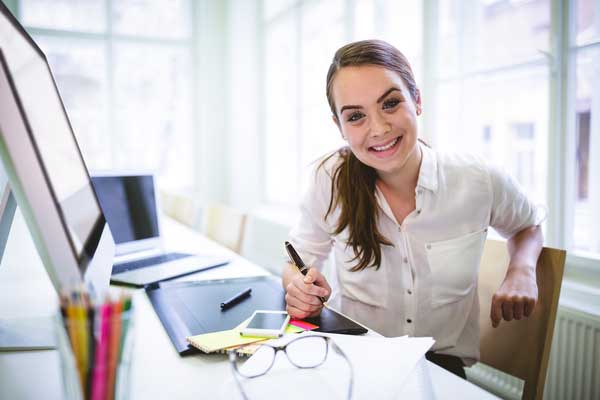 Here are 10 key pieces of advice for graphic design students looking to thrive in this competitive industry.
1. Focus on Becoming Who You Want to Be
Made by James says "Focus on the person you want to become rather than what others tell you you should be." As a student, it's easy to get caught up in everyone's opinions. Tune out the noise and figure out your own path. Develop your personal brand and style. Become the designer you want to be.
2. Your Learning Really Begins After University
When applying for jobs, agencies look for skills and fit – not just a degree. As Jeremy says, spend time honing your craft. Build a portfolio that demonstrates your abilities in typography, branding, and problem solving. Show how you think through designs, not just the end result.
3. Continue Learning Outside of School
Debbie's advice is to keep learning from design professionals. Read books, take courses, and soak up their years of experience. As Jeremy says, learn from their mistakes so you can avoid them yourself. I'm always reading and taking courses to improve my skills. Never stop progressing.
4. Work Until Your Work Gets You Work
As Christo says, "Work on your work until your work gets you work." Building an amazing portfolio is how you'll get hired. It takes time and dedication to develop skills and style. Put in the 10,000 hours towards mastery. Don't rush to get Instagram famous – do the work first.
5. Fail Your Way to Success
Don't get discouraged when projects fail. As I say, fail your way to success. Learn from failures so you can improve. I still get imposter syndrome comparing myself, but remember there's always someone better. Relax. Stay passionate and keep practicing to get better.
6. Take Inspiration from Different Fields
Connecting different ideas is how creativity thrives. As a designer, read about music, sculpture – anything. Product design intrigues me, so I look at industrial design to make more functional branding work. Cross-pollinating fields sparks innovation.
7. Develop Business Savvy
Stefan says creative business requires both creativity and business skills. Learn negotiating, management, marketing. If business isn't your thing, partner with someone who excels at it. But invest in those skills as much as design skills. They're equally important.
8. Adopt a Long-Term Mindset
Instead of chasing quick bucks, think long-term, Stefan advises. Build your skills, network, and social following over years. With a long-term strategy, you won't get stuck. Remind yourself that big goals take time. Stay persistent and compound results.
9. Balance Design Work With a Life
Make time for enjoying the experience, Ali says. Use extra time to pick up new skills and hobbies. University is about more than just studies and work. Make sure to explore your other passions too. Bring inspiration back into your design practice.
10. Remember It's a Marathon, Not a Sprint
There's no end point in this journey. Don't think you'll arrive and then everything will be easy. As Christo says, there's always another peak ahead. Keep learning. Keep progressing. Hit milestones but don't stop striving higher. Enjoy the lifelong climb.
Any graphic design students reading this, soak up these tips from the pros. Take what resonates with you and apply it. Focus on developing your skills, style and business savvy. Be patient with yourself and keep practicing your craft. You've got an amazing career ahead of you.