In today's competitive job market, having the right certifications can be the key to unlocking exciting career opportunities. Whether you're an experienced professional looking to advance or a recent graduate embarking on your career journey, earning an IT certification can significantly enhance your skillset and earning potential. In this article, we will delve into the top 10 certifications for 2023, each offering unique benefits and opportunities for career growth.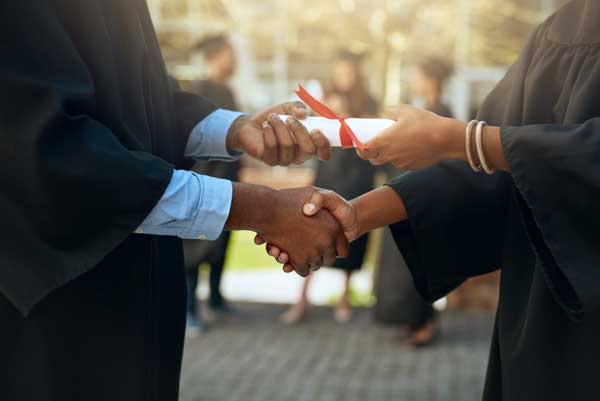 Web Development Certification 2023
Web development plays a crucial role in the digital landscape. Designing and coding functional websites while ensuring compatibility is essential for effective online presence and increased sales revenue. Simply Learn's Full Stack Java Developer Course with job guarantee covers all aspects of web development, from front-end design to server management. The web development job market is expected to grow by 8% by 2029, offering excellent career prospects. In the US, web developers can earn an average salary ranging from $62,000 to $158,000, while in India, it's 13.7 to 30 lakh rupees.
Cyber Security Certification Trends
In an increasingly digital world, cybersecurity is paramount. Seventy percent of cybersecurity professionals in the United States are required to be certified by their employers, highlighting the importance of certifications in this field. Simply Learn's Advanced Executive Program in Cyber Security, developed in collaboration with IIIT Bangalore, covers everything from basics to complex topics. Certifications such as CCNA, CCNP, and CISSP are also valuable. Cybersecurity analysts can earn $84,000 to $164,000 in the US and 5 to 40 lakh rupees in India.
Agile Scrum Master Certification Benefits
Agile Scrum is a methodology widely adopted in project-based work for its efficiency and collaboration benefits. The certified Scrum Master accreditation, provided by Scrum Alliance, teaches you how to employ Scrum methodologies effectively. A certified Scrum Master can earn $100,000 to $170,000 in the US and 13 to 20 lakh rupees in India. With a 24% growth prediction in jobs by 2026, this certification offers promising career prospects.
Robotic Process Automation (RPA) Certification
The automation industry is booming, and RPA is at the forefront. RPA is used to build bots that can execute rules-based business processes, enhancing efficiency. Simply Learn's RPA certification program, using the UiPath RPA platform, prepares you for the RPA Developer Advanced certification. With the RPA market set to reach $10 billion by 2023, certified RPA engineers can earn up to $88,000 to $140,000 in the US and 7 to 20 lakh rupees in India.
PMP Certification
Project management is crucial for efficiently utilizing resources and completing tasks. Simply Learn's PMP Plus certification covers various aspects of project management, including Agile, Scrum, and Lean Six Sigma. With approximately 2.2 million new project management jobs expected by 2027, certified project managers can earn $74,000 to $144,000 in the US and 12 to 17 lakh rupees in India.
Big Data Certification
The volume of data generated daily is staggering. Organizations rely on big data analytics to make informed decisions. Simply Learn's Big Data Engineer certification covers essential tools like Hadoop and MongoDB. Certified big data engineers can earn $121,000 to $251,000 in the US and 12.3 to 33 lakh rupees in India.
Digital Marketing Certification Demand
Digital marketing is essential for businesses to connect with their clients online. Simply Learn's PG Program in Digital Marketing covers various digital marketing aspects. Digital marketing managers can earn $60,000 to $160,000 in the US and 7 to 16 lakh rupees in India.
Data Science Certification
Data science combines programming, mathematics, and statistics to extract valuable insights from data. Simply Learn's Data Science Master certification covers Python, SQL, data visualization, and machine learning. Data scientists can earn $115,000 to $246,000 in the US and 8.2 to 20 lakh rupees in India.
Cloud Computing Certification
Cloud computing is driving global markets, with significant growth expected. Certifications like AWS Certified Solutions Architect Associate and Microsoft Certified Azure Administrator offer promising career prospects. Cloud computing engineers can earn $145,000 to $227,000 in the US and 16 to 24 lakh rupees in India.
AI and Machine Learning Certification
AI and machine learning are shaping industries. Simply Learn's Postgraduate AI and Machine Learning program, developed with Purdue University and IBM, covers NLP, Python, machine learning, and more. AI engineers can earn $140,000 to $386,000 in the US and 6 to 20 lakh rupees in India.
Conclusion
In 2023, these top 10 certifications offer opportunities for career growth across various industries. Whether you're interested in web development, cybersecurity, project management, or emerging fields like AI and machine learning, there's a certification that can open doors to lucrative career prospects. Choose the certification that aligns with your interests and career goals, and embark on a journey towards success. Stay updated with the latest trends, and invest in your professional development to thrive in today's competitive job market.